---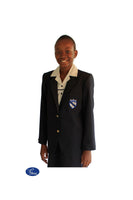 Dominican Convent blazer comes in a French navy with the school logo embroidered on the pocket. The blazer is part of the number 1's uniform - typically for special occasions at school and often for assemblies.
The blazer has two outer pockets, one inner pocket, and a spare button just in case. 
PLEASE PLACE AN ORDER AND WE WILL E-MAIL YOU BACK WITH A QUOTE FOR THE SELECTED ITEMS.