---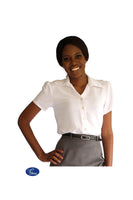 This Ntombi - white short sleeve blouse is made from a Peruvian "Cotton" that we bring in from Indonesia. It is a synthetic fabric but is cool to the touch and is easy to care for. You can wash it and if hung up to dry will need little to no ironing. 
The blouse has 5 buttons, short sleeves and a little colour. We do provide an extra button just in case you lose one. 
The blouses can be worn tucked in or out - the length of the blouse is short enough that it can be tucked in comfortably but if worn untucked can still feel modest, about mid-bottom length on an average height person.
Here are some basic lengths to assist you in your purchase:
Collar to hem:
Size 34 - 64 cm
Size 42 - 68 cm
Size 48 - 73 cm